Our Rodent Control Service
The most common rodents are the House Mouse, Norway Rat, and Roof Rat. These rodents are some of the most adaptable creatures on the planet and can be very hard to eliminate. Worse, these rodents spread diseases, contaminate food, damage property, and breed quickly. Luckily, the team at A-Extreme Services Green Pest Management can help. With over 30 years of experience, we're Albuquerque, NM's highest-rated and most dependable rodent control experts.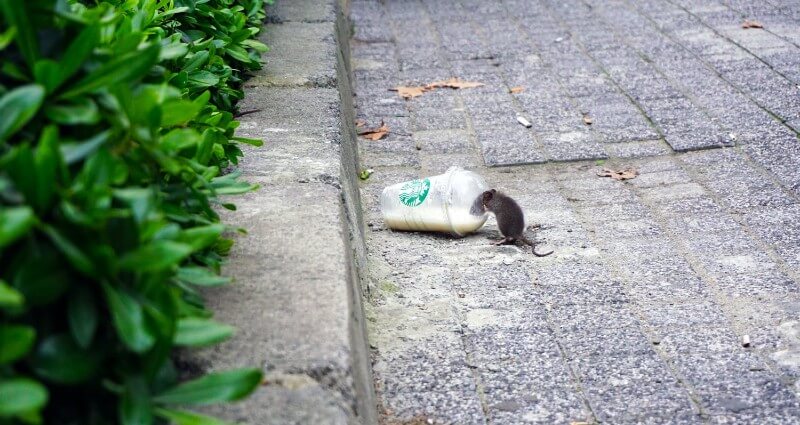 Our Unique Approach To Rodent Control
Our number one goal is to give you the instant relief you need and the long-term protection you deserve from rats and mice. Because every situation is unique, we'll use a combination of the following measures to address your rodent problem at the source:
We'll start by performing a thorough inspection in and around your home. During this time, we will identify areas of activity, potential entry points, and attractants. 
After the site inspection, we'll provide you with detailed sanitation guidelines and recommendations. This checklist will help you avoid future rodent infestations by showing you how to eliminate attractants and maintain a clean, sanitary environment.
Your family and pets safety is our number one priority.  Our bait stations are locking, child and pet resistant, and made of thick plastic.  If your rodent population is large, we'll start with a high-quality bait to knock down the population and prevent rapid growth. We'll then monitor and refill bait stations as needed. 
Why Choose A-Extreme Services Green Pest Management
We're passionate about helping people just like you get rid of unwanted pest problems. As such, we are proud to be the only pest control company in Albuquerque, NM promising excellence in value, service, and trust.
Frequently Asked Questions
To get rid of rodents, it's important to determine the exact species you're dealing with. For example, if you have rats and select bait stations for mice, they will not be  large enough for the rats.  Plus, each species behaves differently. Our highly-trained technicians know exactly where to look and what to look for. Understanding the differences between species increases our rodent program's success, which is what separates us from the competition.
A lot of homeowners try do-it-yourself or over-the-counter solutions. The problem with this approach is it sometimes causes rodents to spread around your house, plus it's often not enough to deal with large populations. Here at A-Extreme Services Green Pest Management, our technicians are trained to diagnose the problem, think outside of the box, and come up with solutions that make sense for you. If you're dealing with a rat or mice problem or want to protect yourself from future infestations, please call us at 505-922-0066!
Absolutely! Our rodent control service is performed by thoroughly trained technicians who place bait stations according to the law. Our goal is to ensure your children and pets are kept safe before, during, and after your rodent control service. To schedule your first visit, please give us a call at 505-922-0066. We're happy to answer any questions you have!
$35 OFF Your First Bi-Monthly Service
First time doing business with us? Get $35 OFF your first bi-monthly service with a service agreement!
Rodent Control
Call for Pricing
Site Inspection
Sanitation Checklist
Baits and Traps
Monitoring/Maintenance
Not interested in a package?
One-Time Pest Control
Starting at…
Our one-time pest control service is guaranteed for 60 days and includes all crawling insects other than wood-destroying pests and bed bugs!
★★★★★
"In my search for pest control, we contacted several companies. A-extreme was so professional, understanding, passionate to help get rid of our unwanted ants. We just had our second service and I can't be more pleased. For our first visit, we were quickly fit into the schedule. They serviced our home in the morning and within 24 hours our back porch was full of dead ants. We haven't seen ants since. They said to call if we saw any more bugs, but we didn't need any more services until our next scheduled appointment. We couldn't be more pleased. I have and will continue to recommend them to everyone! We ❤️A-Extreme!!!"
- Elizabeth F.
★★★★★
"My husband and I have been using A-Extreme Services for a couple of years now, in a couple of different homes. I am so grateful to this excellent company for helping us time and time again with ants, roaches, and spiders. I guess it's an Albuquerque thing but these little pests come around every summer, and we always call A-Extreme. One of the most important things to us is making sure pest control is safe for our small dogs. We are also grateful that they practiced mask-wearing and social distancing while they were in our home. I am so grateful for their professionalism and knowledge. I absolutely recommend this company!"
- Victoria M.
★★★★★
"We have benefited from having the honor and privilege of A-Extreme Services, Inc. providing our family with the highest and utmost quality of detailed service attending our insect concerns by rooting out and establishing a safe and comfortable home environment for our family for almost twenty years. Each member of A-Extreme Services, Inc.has especially, expressed their empathy with personal attention concerning our individual health issues concerning services that they provide. Without the need for any questions, we wholeheartedly recommend A-Extreme Services, Inc. Sincerely,!"
- Eric L.