Ant control in Albuquerque, NM is no easy task. Ants are social and live in colonies. Some of the ant species we get have multiple queens. When homeowners attack ants with pesticides, the queens will disperse and form new colonies—making your problem worse than it was in the first place. Luckily, A-Extreme Services Green Pest Management can help! Our techs use transferable products with a slow kill, allowing the ants time to get back to the nest and infect the entire colony. This can happen in as fast as two days, reducing the number of ants by over 90%, which means our customers stop seeing ants.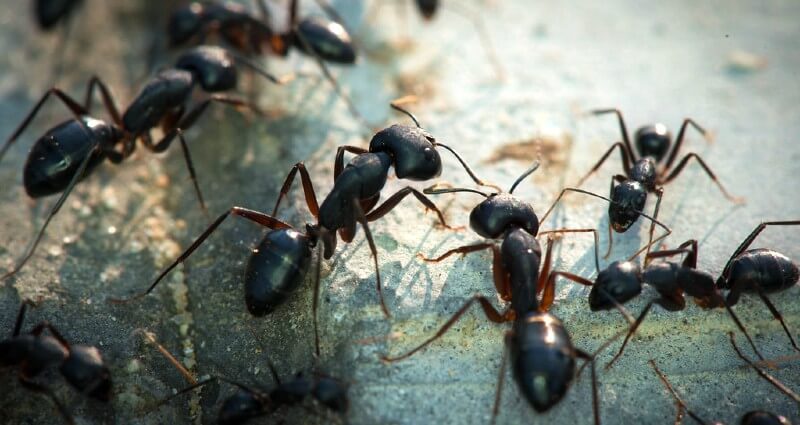 Our Unique Approach To Ant Control
Ants enter your home through the smallest openings looking for water and food. Primarily water, this is why we finding them in the kitchen and bathrooms is so common. Once they gain entrance, they will leave a pheromone trail for other ants to follow. This is where we treat with non-repellent transferable products and baits that are brought back to the nest and give better control.
We'll perform a thorough inspection in and around your home. Inside, we'll inspect all carpet edges, doors, windows, and your kitchen. Outside, we'll check your foundational walls, plus areas of vegetation and mulch.
2. INTERIOR ANT TREATMENT
We'll place professional ant baits in areas of activity and trails. Ants feed on this bait and take pieces back to the queen, killing the entire colony. This approach ensures the whole ant nest is eliminated.
3. EXTERIOR ANT TREATMENT
 As well as baiting outside, we will carefully apply a non-repellent transferable product around the perimeter and entry-points of your home.
Why Choose A-Extreme Services Green Pest Management
We're passionate about helping people just like you get rid of unwanted pest problems. As such, we are proud to be the only pest control company in
Albuquerque, NM
promising excellence in value, service, and trust.
Frequently Asked Questions
Ants invade homes looking for food and water. So it doesn't matter if you leave dirty dishes in the sink, food residue on your counters, or crumbs on the floor. You can be the cleanest person in the world and still have ant problems. Ants set up their nests in your walls, on your lawn, and around your home's foundation.
Ant infestations are a pretty big deal. One of the biggest problems related to ants is food contamination. Ants carry bacteria on their bodies, spreading when they crawl in your sink and across your countertops. Now, only a few ant species carry insect-borne diseases, but finding any ants in your home is an unpleasant surprise.
To get your ant problem under control, proper inspection and treatment are needed. So please give us a call at 505-922-0066 to schedule your service today. Our team is thoroughly trained in eliminating ant colonies and will keep these pests where they belong: out of your business and home.
$35 OFF Your First Bi-Monthly Service
First time doing business with us? Get $35 OFF your first bi-monthly service with a service agreement!
Bi-Monthly Pest Control
Starting at…
Our bi-monthly pest control service includes all crawling insects other than wood-destroying pests and bed bugs.
Note: Initial setup fee required. Also, you can pay for a year in advance and save 10%!
Not interested in a package?
One-Time Pest Control
Starting at…
Our one-time pest control service is guaranteed for 60 days and includes all crawling insects other than wood-destroying pests and bed bugs!
★★★★★
"In my search for pest control, we contacted several companies. A-extreme was so professional, understanding, passionate to help get rid of our unwanted ants. We just had our second service and I can't be more pleased. For our first visit, we were quickly fit into the schedule. They serviced our home in the morning and within 24 hours our back porch was full of dead ants. We haven't seen ants since. They said to call if we saw any more bugs, but we didn't need any more services until our next scheduled appointment. We couldn't be more pleased. I have and will continue to recommend them to everyone! We ❤️A-Extreme!!!"
- Elizabeth F.
★★★★★
"My husband and I have been using A-Extreme Services for a couple of years now, in a couple of different homes. I am so grateful to this excellent company for helping us time and time again with ants, roaches, and spiders. I guess it's an Albuquerque thing but these little pests come around every summer, and we always call A-Extreme. One of the most important things to us is making sure pest control is safe for our small dogs. We are also grateful that they practiced mask-wearing and social distancing while they were in our home. I am so grateful for their professionalism and knowledge. I absolutely recommend this company!"
- Victoria M.
★★★★★
"We have benefited from having the honor and privilege of A-Extreme Services, Inc. providing our family with the highest and utmost quality of detailed service attending our insect concerns by rooting out and establishing a safe and comfortable home environment for our family for almost twenty years. Each member of A-Extreme Services, Inc.has especially, expressed their empathy with personal attention concerning our individual health issues concerning services that they provide. Without the need for any questions, we wholeheartedly recommend A-Extreme Services, Inc. Sincerely,!"
- Eric L.