Our Roach Exterminator Service
Here's a little known secret: roaches are always on the hunt for food, water, and shelter, which means they'll always attempt to enter your home. Worse, since they're nocturnal pests and adept at hiding, your roach infestation can quickly get out of hand before you know it. Luckily, the team at A-Extreme Services Green Pest Management can help! With over 30 years of experience killing cockroaches, we're Albuquerque, NM's leading roach control service provider.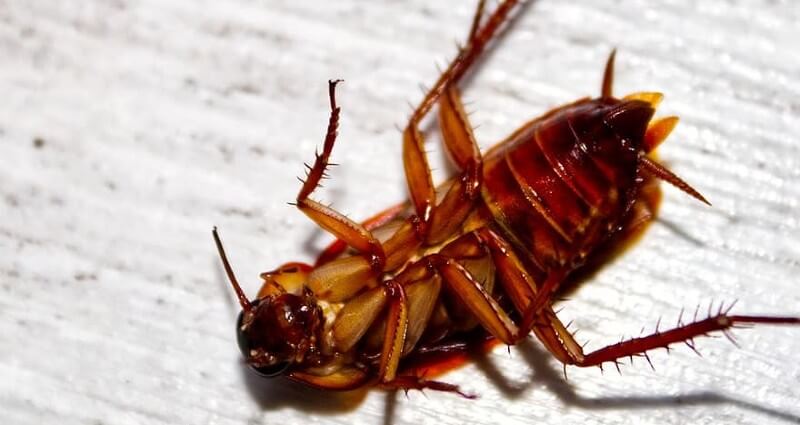 Our Unique Approach To Roach Extermination
Getting rid of roaches in
Albuquerque, NM
is difficult because the two most common species (German and American) are eliminated using different techniques. So after determining which species you have, we will follow a specific treatment plan to get rid of roaches in your home for good.
We'll first identify which type of roach you have. We'll use a flashlight or glue board to catch them, then look at their size and physical features. This step is the key to successfully treating your roach infestation.
We'll then investigate sanitation issues. Since roaches need food, water, and a harbor location to survive, we'll share it with you if we identify anything conducive to their existence. It's important that we eliminate these sources as much as possible to get rid of your roach problem.
3. GERMAN ROACH TREATMENT
We'll use roach baits and insect growth regulators to treat German Roach and other small species roaches (Brown-Banded). It's important that you deep clean your kitchen and bathroom during this process. If not, getting rid of these roaches will be much more challenging.
4. AMERICAN ROACH TREATMENT
We'll spray a residual insecticide and use granular baits to eliminate American Roaches and other large species (Australian, Smokey Brown, Oriental, and Woods). We'll also remove any harborage areas outside and seal any cracks or crevices they may be using to enter your home.
Why Choose A-Extreme Services Green Pest Management
We're passionate about helping people just like you get rid of unwanted pest problems. As such, we are proud to be the only pest control company in
Albuquerque, NM
promising excellence in value, service, and trust.
Frequently Asked Questions
The most common culprit is poor housekeeping. But cleaning your kitchen, floors, and bathrooms sometimes isn't enough. Roaches are accomplished hitchhikers, which means they can also get in by riding boxes, hiding in furniture, and latching onto other items brought into your home. Furthermore, roaches can enter through cracks and gaps in your walls and drains or sewer pipes. So your best bet is to call 505-922-0066 for your free estimate! We'll discuss the type of roach you have and the issue causing them.
Not only are roaches one of the most common pest problems in Albuquerque, NM, but they're also one of the hardest to eliminate. This is because roaches are often scattered throughout your home, have high breeding potential, and can develop a resistance to pesticides. This is problematic because roaches transfer E. coli and salmonella from one food source to the next. So if you're dealing with a roach problem or want to protect your home from future infestations, please call 505-922-0066 today!
The answer depends on the species and severity of the infestation. Keep in mind many over-the-counter solutions are ineffective and sometimes even make the problem worse. Roaches are incredibly adaptable, which means they can scatter through your home and develop a resistance to do-it-yourself treatments. So we recommend calling 505-922-0066 for your free estimate and give you an idea of how long it'll take to get rid of roaches in your home.
$35 OFF Your First Bi-Monthly Service
First time doing business with us? Get $35 OFF your first bi-monthly service with a service agreement!
Bi-Monthly Pest Control
Starting at…
Our bi-monthly pest control service includes all crawling insects other than wood-destroying pests and bed bugs.
Note: Initial setup fee required. Also, you can pay for a year in advance and save 10%!
Not interested in a package?
One-Time Pest Control
Starting at…
Our one-time pest control service is guaranteed for 60 days and includes all crawling insects other than wood-destroying pests and bed bugs!
★★★★★
"In my search for pest control, we contacted several companies. A-extreme was so professional, understanding, passionate to help get rid of our unwanted ants. We just had our second service and I can't be more pleased. For our first visit, we were quickly fit into the schedule. They serviced our home in the morning and within 24 hours our back porch was full of dead ants. We haven't seen ants since. They said to call if we saw any more bugs, but we didn't need any more services until our next scheduled appointment. We couldn't be more pleased. I have and will continue to recommend them to everyone! We ❤️A-Extreme!!!"
- Elizabeth F.
★★★★★
"My husband and I have been using A-Extreme Services for a couple of years now, in a couple of different homes. I am so grateful to this excellent company for helping us time and time again with ants, roaches, and spiders. I guess it's an Albuquerque thing but these little pests come around every summer, and we always call A-Extreme. One of the most important things to us is making sure pest control is safe for our small dogs. We are also grateful that they practiced mask-wearing and social distancing while they were in our home. I am so grateful for their professionalism and knowledge. I absolutely recommend this company!"
- Victoria M.
★★★★★
"We have benefited from having the honor and privilege of A-Extreme Services, Inc. providing our family with the highest and utmost quality of detailed service attending our insect concerns by rooting out and establishing a safe and comfortable home environment for our family for almost twenty years. Each member of A-Extreme Services, Inc.has especially, expressed their empathy with personal attention concerning our individual health issues concerning services that they provide. Without the need for any questions, we wholeheartedly recommend A-Extreme Services, Inc. Sincerely,!"
- Eric L.